Began kart racing ....
in 1977 at Blackbush Airfield Circuit with Camberley Kart Club in 100 International.
Built my own chassis ....
in 1979-82 when racing at Chasewater. Initally in 100 International but as numbers dwindled moved to 100 National racing with KR Karting. Getting a little demoralised with not being competitive with factory karts I decided to have a break for driving and took up promotional activities for Chasewater KRC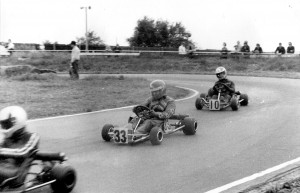 Built 125 kart ....
The bug bites again ....
Having played with the 125 "fun" kart, I decided to have a serious go at 100 Britain. I raced a Gillard with KR Karting in 1987 at Chasewater and Rissington with occasional visits to Shenington.
Midland Championship winner
in 1989 whilst racing a Gillard 100 Britain with Parilla TT22 engines I won the Rissington KRC Club Championship for 100 Britain Clubman and as part of that campaign I won the 1989 Midland Championship in that class too! 1990 would see a move to 100 Britain Premier with the purchase of some TKM KA100 engines.
Lets go car racing ....
In 1991 I took the plunge to build a Westfield kitcar to race in 750MC Kitcar Championship, having my first race in 1992. From 1995 I had the enviable record of being in the top 3 of the championship outright every year and winning the outright championship in 1996 and class championships in 1998 & 1999.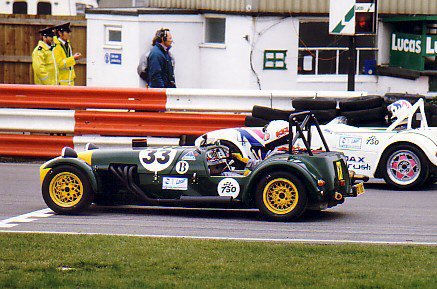 Lets build our own racecar ....
Having dominated Kitcar racing for the last 5 years, along with Ivan Gilmour, we would build 'our version a a race winning Westfield'. The LA Gold was build as a production kitcar with 5 identical kits. In 2000 I raced the prototype, but team mate Martin Smith took the outright Championship in his version as I concentrated on setting up my new business.
Building the business ....
By 2001 I had retired from teaching and started MTMotorsport. Over the next 5 years we would convert a Noble supercar to race-winning spec, run customer cars in Formula Ford Zetec, Formula 4, Saxmax. We also ran our own cars in Kitcars, Saxmax and 3 Stock Hatch Fiesta XR2.
In 2006 I sold the business but continued to manage it for a while …..
Ferrari Times ....
2007  Saw me begin working in Britcar with the MTECH team, running two Ferrari 430 GT3 cars. 2009 the team moved into British GT again with Ferraris before stepping up to FIA GT3 in 2011 with a pair of Ferrari 458 GT3 cars.
Back to single-seaters ....
2009 MTECH took over mid-field BARC Formula Renault team, Reon Motorsport mid-season. As I had the most experience of single-seaters within the company, I went to Donington Park to team manager the outfit. What a surprise for everyone, Dino Zamparelli qualified for pole in both races, won both races and set fastest lap in the second race! We went on to finish 3rd in the championship!
Racing a desk .....
By 2012 I had become General Manager at MTECH with a company desk to drive! I was responsible for co-ordinating the Ferrari GT European team, the UK team,  MTECH Lite Formula Renault, and the new Lamborghini Racing Team UK team running in Lamborghini  Super Trofeo Championship !
Retirement beckons ....
August 2013 I took a big decision to retire …….
Now I had plenty of time to get back into karting and the Sabre rebuild began ……