1975 Barlotti Barracuda – Bultaco 250cc
1981 Le Mans 24hr class winner and double British Touring Car Champion Chris Hodgetts recently discovered his last ever kart was up for sale. Having acquired it he contacted me to ask me to completely strip it down, paint it in the famous Hodgetts metalic green he always used and check everything was safe to run it in demonstrations. The brakes needed some work doing on them to make them reliable and the engine crankshaft was modified to allow an electric starter to be used. No more of the pushing malarky…..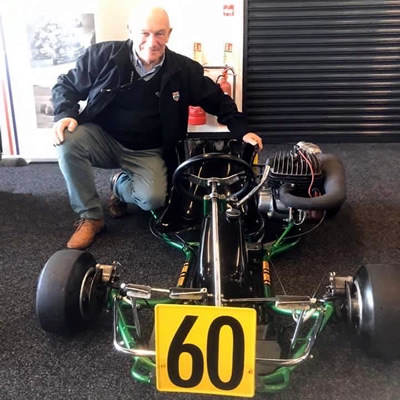 Fellow Retro Racer Steve Cowell is restoring his favourite Birel kart from 1983. He asked me if I could polish out the marks in the original and get it re-anodised. I explained that for a real top job we should start from scratch and make a new one, get the Birel logo engraved and then anodize it black…. you can see the results here.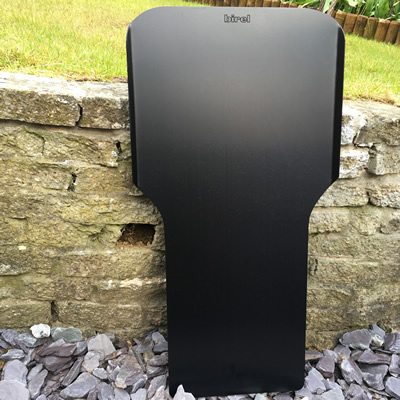 Having driven my Gillard at Jesolo in 2018 and been so impressed by it, Gerry came to me the next day and asked me to find a DAP kart and restore it to the same standard as my kart. I explained I work to the same standards who ever the kart is for! So having sourced the chassis, it was stripped repaired, powder-coated, replacement bumpers made where necessary and chromed. The brake was completely stripped and rebuilt and away it went to Jesolo for the 2019 event.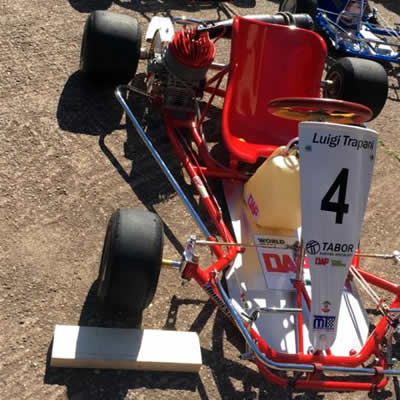 1990 Gillard  100 Britain
– TKM KA100
This was a recreation of my last kart raced in 1990 before turning to building a Westfield circuit race car. The restoration started with the sourcing of the same model chassis as I used, but needed the correct type of plastic side pods. The KA 100 i originally had was the 4th off the assembly line.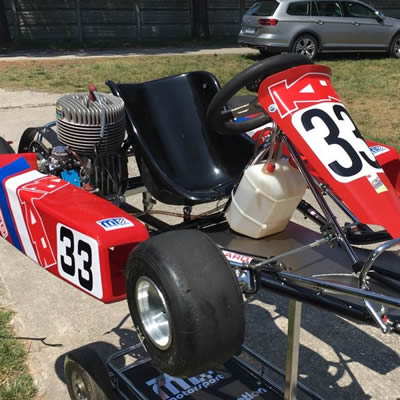 Remote Starter – Anti-clockwise
Whilst restoring the Barlotti (seen above) it was decided to modify the crankshaft to allow a remote starter to stop the need to push start. Having seen some very 'Heath Robinson' versions I decided to make my version.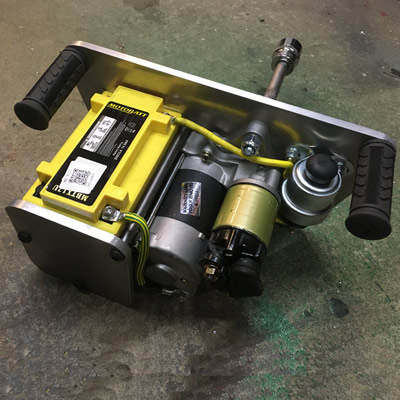 1976 Zip Euro
– Hewland Arrow
The first restoration I undertook for someone else. I had been recommended by the BHKC as may be interested in restoring a kart for a chap without the facilities or knowledge to undertake the project. He was extremely pleased with the outcome!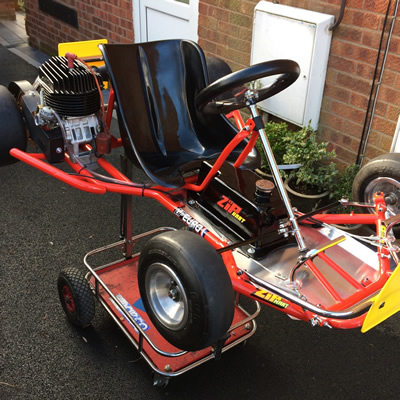 1983 Dart 089 
– Parilla TT27
After completing the Zip restoration above, Dennis asked me to work my magic on this Dart kart with the usual full strip, powder-coated frame & re-chrome the bumpers. A Parilla was sourced to complete the outfit. Coppa di Campione 2018 winner at Jesolo!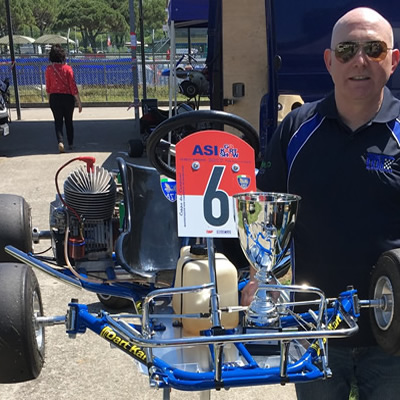 DAP Rims 
– Mag Lookalike
As part of the DAP restoration above, we tried to source some original DAP Magnesium wheel rims, but they were fetching high prices. I talked to my anodizer about trying to match the gold finish but using some new cast aluminium versions. It worked…even down to copying the small DAP decals.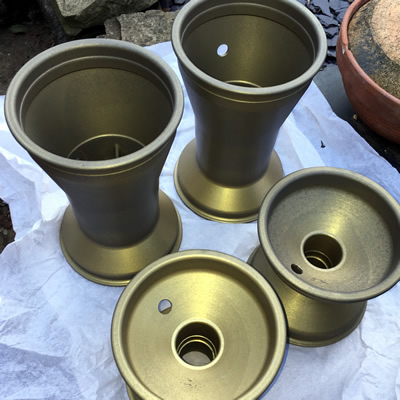 Major Restoration & Modifications
During the 2016 ASI Kart Show at Jesolo Dave Ede asked me to finish off his recently acquired 1983 Dino Super Kart. He wanted the original full bodywork restoring and fitting, a reduced size rear water radiator plus many other modifications. . . .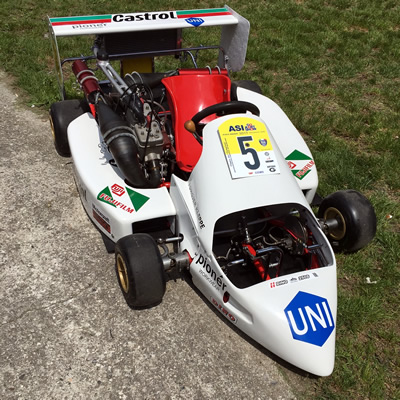 Zip Californian – Disc Brake Conversion
Matthew Cowell raced this Californian in  Retro Racer events rather successfully. The problem was that the original drum brake was needing new shoes and they were proving difficult to obtain in good quality material. His father Steve decided to have it converted to a mechanical disc system.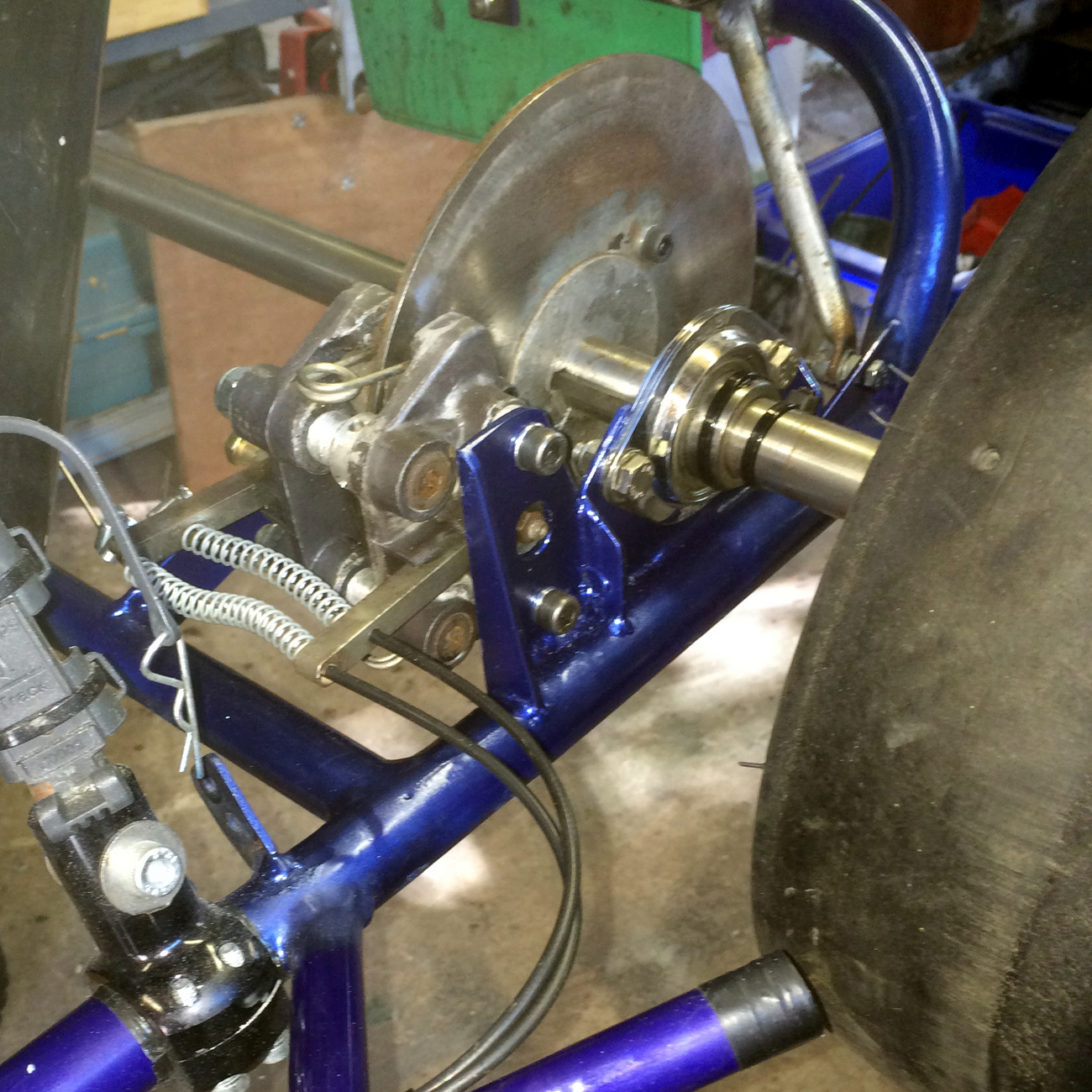 1977 Deavinson Sprint
– Mugen Honda 125cc
This has been a completely different restoration project to the Sabre in that we have no history to the kart. Dave Malpas ( original owner of the Sabre in 1982) and I decided to embark on a joint class 4 project. We heard of the Sprint with a Mugen Honda engine for sale but there were 5 other potential buyer in line! The kart was complete but in a very sorry state. it would need a complete strip, replace a number of damaged tubes,  re-jig to straighten the chassis, bead-blast and powder coat . . . .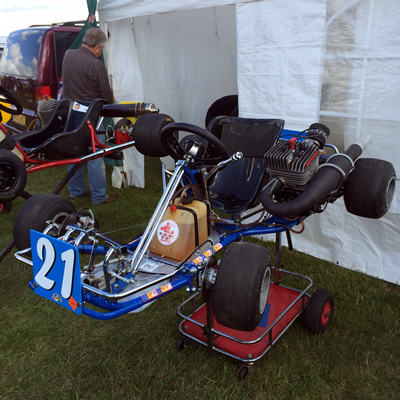 The engine was pretty dirty when it arrived so it was stripped sealed and then vapour blasted. The crankcases were then tumbled to seal the surface as the original engine would have been. The barrel and head were both treated with VHT treatment to bring back the original black finish.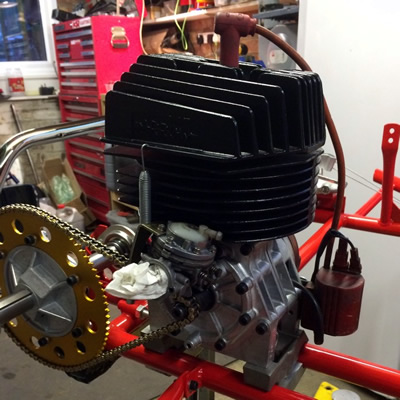 1981 KR Sabre
– Hewland Arrow
Originally built in 1981 as a batch of 5 chassis by Kart Pro for KR Karting in Tamworth. This chassis was originally owned by Dave Malpas who used it to win the 1984 Chasewater KRC 100 Britain Club Championship. Thought to be 'lost' until we found it on EBAY in 2012 looking very modified and very sorry . . . .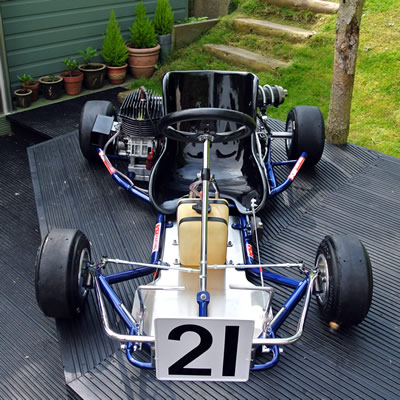 Whilst driving back from Jesolo with Steve Cowell, he had the idea of restoring his Dart kart ready for PFI European Champs weekend. Only a matter of 4 weeks away so no panic! Could I make him a new floor tray please and would it be possible for it to be anodized gold like the DAP ones used to be????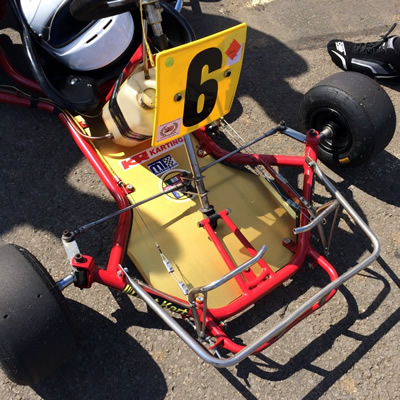 1997 Gold Kart
– FireFox Vortex
 I want you to restore for me an exact replica of Stefan's 1997 Jica kart said Chris Hodgetts. OK, said I. Here's a picture to go from and  by the way, I'd like two! 
A better than factory finish to hang on the wall as a piece of art and the other for Stef to use at demos and test days . . . .